To install the additional language file please download these file separately and follow the following steps.
Click here to download the additional language files.
1. Download the additional language file.
2. Unzip the language.zip folder and copy the required language file into the language folder. normally C:\Users\xx\Documents\reservation\lan
3. From the file menu select configuration the preference.
4. Click the select button and locate the new language file and save.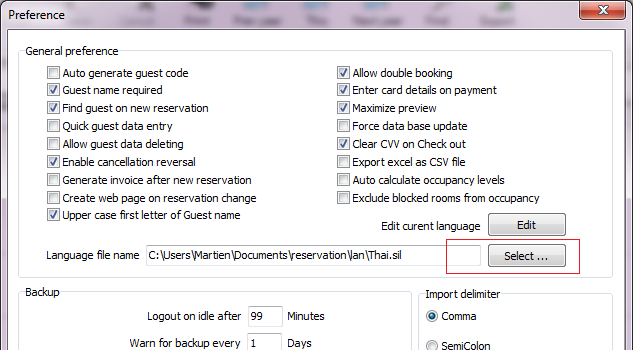 5. From the main menu select language, you will note that the new language is now available.
Please note that in case selecting the new language you get get garbage when switch the language say to Chinese.
You might need to install Chinese (or any other non-Western) locale support and/or set your system's default locale to Chinese. To do that go to Control Panel|Regional and language|Administrative tab, and change the system locale to Chinese.
Chinese
Reservation Master 是保留软件包开发用于酒店,旅馆,饭店,民宿,旅馆及旅馆和露营地在世界范围内使用。
该方案现在支持远东语言这意味着你可以将界面切换到中国。通过使用中国语言文件。
请注意,所作的翻译是使用电子翻译,因此可能不是100%正确。请与我们联系的情况下更改需要进行
Russian
Reservation Master является пакет программного обеспечения Бронирование разработаны для использования в гостиницах, мотелях, гостевых домах, кровать и завтрак, лож & Inns и кемпинги по всему миру.
Программа теперь поддерживает Дальнего Востока язык означает, что вы можете изменить интерфейс на русский язык. с помощью файла русского языка.
Пожалуйста, обратите внимание, что перевод осуществляется с помощью электронного перевода и, следовательно, не может быть на 100% правильно. Пожалуйста, свяжитесь с нами в случае изменения должны быть сделаны.
Korean
Reservation Master 예약 소프트웨어 패키지는 전 세계적으로 호텔, 모텔, 게스트 하우스, 숙박 및 아침 식사, 숙박 및 여관과 캠프장에 사용하기 위해 개발되고있다.
이 프로그램은 지금 한국에 인터페이스를 변경할 수 있습니다 의미 극동 언어를 지원합니다. 한국 언어 파일을 사용하여.
번역이 전자 번역을 사용하여 수행하기 때문에 100 % 정확하지 않을 수도 있습니다. 경우 변화에 문의하시기 바랍니다가 될 필요가있다.
Thailand
Reservation Master เป็นแพคเกจซอฟต์แวร์จองพัฒนาขึ้นเพื่อใช้ในโรงแรมโมเต็ล, เกสต์เฮาส์ที่พักและอาหารเช้า, บ้านพักและโรงแรมขนาดเล็กและแผนภาพทั่วโลก
โปรแกรมในขณะนี้สนับสนุนภาษาตะวันออกห่างไกลคุณสามารถเปลี่ยนอินเตอร์เฟซที่ประเทศไทย โดยใช้แฟ้มภาษาไทย
โปรดทราบว่าการแปลที่จะทำโดยใช้การแปลอิเล็กทรอนิกส์และดังนั้นจึงอาจจะไม่ถูกต้อง 100% กรุณาติดต่อเราเปลี่ยนแปลงในกรณีที่จำเป็นต้องทำ